FLOYD CASEY STADIUM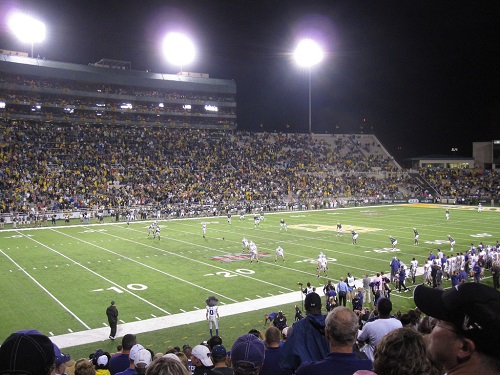 BAYLOR, TX
The 2013 season marks the end of an era as the Baylor Bears play their last season at Floyd Casey Stadium before moving into a new on-campus stadium in 2014. For 13 seasons the team played on the Baylor campus at Waco Municipal Stadium before support began to build a new off-campus stadium in the late 1940s. Constructed four miles from campus, the $1.5 million stadium opened on September 30, 1950 when Baylor beat the Houston Cougars.

Floyd Casey Stadium has changed little over its six decades of existence. In 1972, Astroturf replaced the grass field and during the 1970s the Letterman's Lounge was built. Baylor Stadium was renamed Floyd Casey Stadium in 1988 after a large donation from Carl Casey in honor of his father.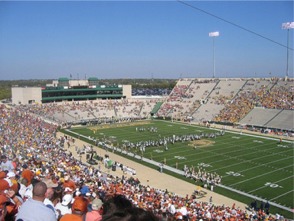 Throughout the 1990s, lights were installed, the exterior was sandblasted and painted, grass was installed replacing the Astroturf, and a new press box housing luxury suites was constructed. The latest addition came before the 2002 season when a new video/scoreboard was installed at the south end zone. Today as when it opened, Floyd Casey Stadium has a capacity of 50,000. However, many of the seats in the south endzone are tarped reducing the capacity to 45,000. Next season the Bears move into their new $250 million, 45,000 seat on-campus stadium.

2014 BEARS SCHEDULE
-8/30 - SMU
-9/6 - NORTHWESTERN STATE
-9/13 - at Buffalo
-9/27 - at Iowa State
-10/4 - at Texas
-10/11 - TCU
-10/18 - at West Virginia
-11/1 - KANSAS
-11/8 - at Oklahoma
-11/15 - OKLAHOMA STATE
-11/22 - TEXAS TECH
-11/29 - KANSAS STATE
MAP & DIRECTIONS TO FLOYD CASEY STADIUM
Address: 3088 Burnett Ave., Waco, TX 76711
HOTELS NEAR FLOYD CASEY STADIUM