LEGION FIELD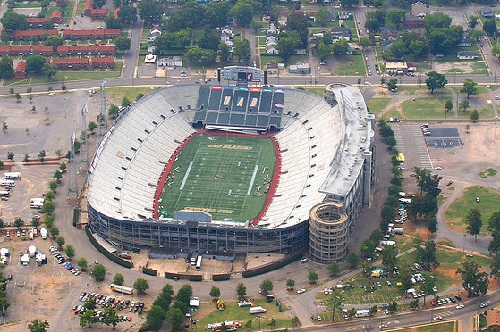 BIRMINGHAM, AL
-Bowl Game: Birmingham
-Sponsor: None
-Capacity: 72,000
-Surface: Grass
-Opened: November 19, 1927
-Host Since 2006
-Cost: $439,000
-Seating Chart

Located in Birmingham, Alabama, Legion Field has seen many football games since its opening in 1926. Originally built at a cost of $439,000, Legion Field had a seating capacity of 21,000 when it opened. The inaugural first game at the stadium occurred on November 19, 1927 when Howard battled Birmingham Southern. The stadium was named after the American Legion, in memory of the men who gave their lives to this country in battle.

Over the past seven decades, Legion Field has undergone many expansion projects along with hosting a variety of football teams. In 1991, the University of Alabama at Birmingham Blazers began playing at Legion Field. Also during the early 1990s the upper deck on the west side was constructed. Also, a new press box and luxury suites were built giving Legion Field its current capacity of 72,000. The stadium is famous for hosting the 1996 Summer Olympic soccer matches. The Blazers continue to play at the stadium but struggle to attract enough fans to fill half of Legion Field's capacity. There has been talk of possibly replacing the stadium with a smaller one for the team. It currently hosts the annual Birmingham Bowl that matches teams from the SEC and American Athletic Conferences.
BIRMINGHAM BOWL GAME
USF Bulls vs. South Carolina Gamecocks
Legion Field
December 29, 2016
2:00PM ET - TICKETS
MAP & DIRECTIONS TO LEGION FIELD
Address: 400 Graymont Ave West, Birmingham, AL 35204