APOGEE STADIUM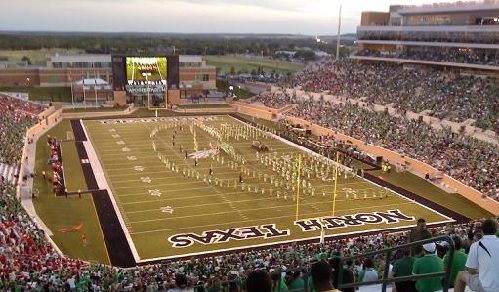 DENTON, TX
-Tenant: North Texas Mean Green
-Conference: CUSA
-Capacity: 30,850
-Surface: Fieldturf
-Opened: September 10, 2011
-Cost: $78 Million
-Seating Chart
-North Texas Sports

For the first time in decades, players, students and alumni can be excited for football each Fall as the North Texas Mean Green play at one of the newest stadiums in college football. From 1952 until 2010 the Mean Green played at the 30,000 seat Fouts Field. Over the years the stadium had become outdated and the university wanted a new football stadium built for the program. It took almost a decade for the university to secure funding for the construction of the $78 million stadium. Construction began in November 2009 and was completed by the 2011 season. The stadium has a seating capacity of 30,850 that features 21 luxury suites and 750 club seats. In August 2011, Aupogee purchased the naming rights for $1 million annually, thus the stadium is named Apogee Stadium.
2015 NORTH TEXAS MEAN GREEN SCHEDULE
-9/12 - at SMU
-9/19 - RICE
-9/26 - at Iowa
-10/3 - at Southern Miss
-10/10 - PORTLAND STATE
-10/17 - WESTERN KY
-10/24 - at Marshall
-10/31 - UTSA
-11/7 - at Louisiana TEch
-11/14 - at Tennessee
-11/21 - at Middle Tennessee
-11/28 - UTEP
MAP & DIRECTIONS TO THE STADIUM
Address: 1251 S. Bonnie Brae, Denton, TX 76207