Two words can describe Bronco Stadium: blue turf. The home of the Boise State Broncos has the most recognizable playing field in any sport.

Unlike every other football team in the nation, Boise State is the only stadium to have blue artificial turf. Built at a cost of $2.2 million, a new stadium for the Broncos was built in 1970. The team christened the stadium on September 11, 1970 against Chico State. Bronco Stadium originally had a seating capacity of 14,500.

The first of two expansions came in 1974 when the east side upper deck was added, boosting the capacity to 20,000. In 1997 the seating capacity was upped to 30,000. The $10 million renovation added seats in the southwest and southeast corners of the stadium. A Hall of Fame for Bronco sports was also added. Today,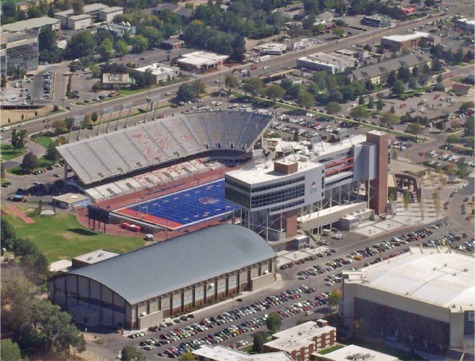 Bronco Stadium is one of the best stadiums in the Mountain West conference. A two tier grandstand is located on both sides of the world's only blue turf field and small sections of bleachers are located in each endzone. The most recent additions to Bronco Stadium were complete before the 2008 season. A new three story structure was added on the west side stadium and includes a new pressbox, club seats and luxury suites. This increased the seating capacity to 32,000. In August 2010, Boise State unveiled a master plan that would expand Bronco Stadium to seat 53,000 fans. At a cost of over $100 million, this expansion would be completed in up to six phases. A football complex housing offices and locker rooms would be built in the north endzone, the field would be lowered allowing for the addition of 3,300 field level seats, 13,200 seats would be added above the football complex in the north endzone, and additional luxury boxes would be added on the east side of the stadium.