Where can you go to pregame in a caboose and hear the theme song from "2001: A Space Odyssey"? That would be the home of the South Carolina Gamecocks, Williams Brice Stadium. A tradition that dates back to the early 1980s, the playing of "2001: A Space Odyssey" as the Gamecocks run onto the field may not sound impressive but it is as 80,000 fans are on their feet screaming. Nicknamed, "the Cockpit," Williams Brice Stadium has been the home to the South Carolina football program since the 1934. In the early 1930s, discussion began on the possibility of building a new stadium for the football team. Built with federal funds, a new stadium was built by the 1934 season. The Gamecocks began playing at the stadium then known as Carolina Municipal Stadium on September 23, 1934 against Erksine. The stadium had a capacity of 17,600 when it opened.

Since its opening in 1934, there have been several significant expansions, many coming in the 1970s. Before the 1970 season, over 14,000 seats were added and Astroturf was installed. These renovations were possible because of $2.5 million left by the estate of Mrs. Martha Williams Brice. Because of her large donation, the stadium was named in her honor. An additional expansion occurred before the 1972 season, when the capacity of the stadium was increased to nearly 54,000, with the addition of the west side upper deck. Ten years later, the capacity grew to 72,400, when the east stands were constructed.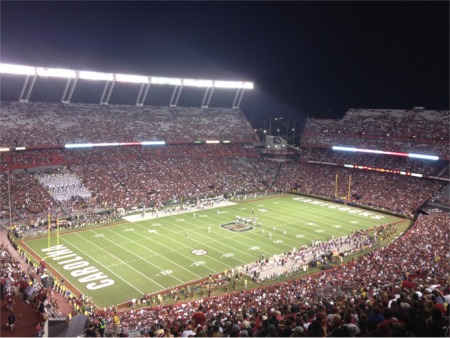 Before the 1995 season, $9.9 million was spent on the west side of the facility luxury suites, club seats and a new press box were constructed. One year later, the $13.5 million south end zone project was completed. This added new club areas and the upper deck. A new 26 foot high by 124 foot high HD video/scoreboard replaced the existing one in 2012. Today Williams Brice Stadium is a massive stadium with a seating capacity of just over 80,000. Future plans call for an upper deck to be added in the north endzone, increasing the seating capacity to 88,000. The Gamecocks have one of the best stadiums in the nations to play football and has some of the best tailgating areas at any college football stadium. Since the stadium is not near the central campus it has a 52 acre landscaped tailgating area that features the Garnet Way, a pathway that the team walks through as they enter the stadium. One of the most unique tailgating areas is the Cockaboose Railroad. Here 22 cabooses have been retrofitted into the ultimate tailgate areas for fans.