BOBCAT STADIUM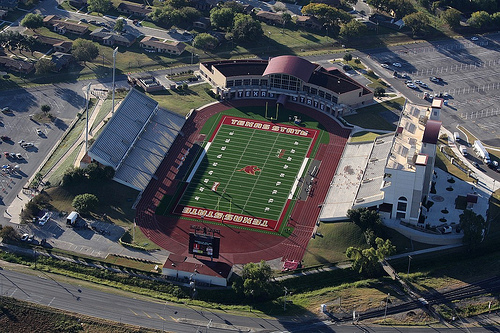 SAN MARCOS, TX
-Tenant: Texas State Bobcats
-Conference: Sun Belt
-Capacity: 30,000
-Surface: DuraSpine Pro
-Opened: 1981
-Cost: $30 Million (renovations)
-Seating Chart
-Texas State Sports

The 2015 season marks the Bobcats fourth season in the Football Bowl Subdivision and their first season in the Sun Belt conference after being a member of the Western Athletic Conference in 2012. Football has been played at Texas State since 1904 where they have won two NCAA Division II National Championships under Coach Jim Wacker. The team has played at Bobcat Stadium for over 25 years. Bobcat Stadium has been expanded in recent years as the university has made the move from the FCS to the FBS. In order to meet FBS standards Bobcat Stadium has been expanded to seat 30,000 from 16,000 with an expansion on the north side of the stadium. Not only does this expansion include additional seating, but includes a Bookstore Fan Shop, additional concessions areas, restrooms and new locker rooms.
2015 TEXAS STATE BOBCATS SCHEDULE
-9/5 - at Florida State
-9/12 - PRAIRIE VIEW
-9/19 - SOUTHERN MISS
-9/26 - at Houston
-10/10 - at Louisiana
-10/24 - SOUTH ALABAMA
-10/31 - at Georgia Southern
-11/7 - NEW MEXICO STATE
-11/14 - GEORGIA STATE
-11/19 - ULM
-11/28 - at Idaho
-12/5 - at Arkansas State
MAP & DIRECTIONS TO THE STADIUM
Address: 1100 Aquarena Springs Dr., San Marcos, TX 78666