LADD-PEEBLES STADIUM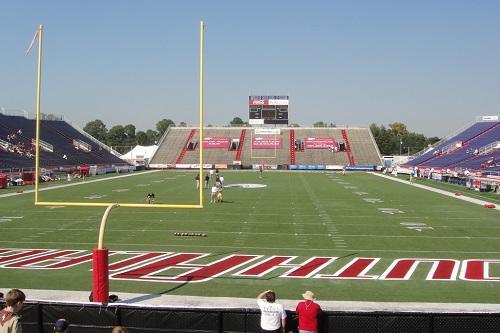 MOBILE, AL
-Tenant: South Alabama Jaguars
-Conference: Sun Belt
-Capacity: 38,888
-Surface: Fieldturf
-Opened: 1948
-Cost: $10 Million (renovations)
-Seating Chart
-South Alabama Sports

Located in Mobile, AL, Ladd Peebles Stadium has a rich football history dating back to 1948. Constructed to honor Ernest Ladd, the stadium hosted it's first football game, a match-up between the Alabama Crimson Tide and Vanderbilt Commodores on October 2, 1948. From 1948 until 1974, the University of Alabama, Auburn and Southern Mississippi all played at the stadium. The Senior Bowl, a showcase of the best college football players, has been played at Ladd Peebles Stadium since 1951. The facility has a seating capacity of just under 39,000 including 120 club seats and 11 luxury suites. In 2008 the University of South Alabama added football to its athletic program. The Jaguars began playing at Ladd Peebles Stadium in 2009. Annually the GoDaddy.com Bowl is played at the stadium matching teams from the MAC and the Sun Belt Conference.
-9/5 - GARDNER WEBB
-9/12 - at Nebraska
-9/19 - at San Diego State
-9/26 - NC STATE
-10/3 - at Troy
-10/17 - ARKANSAS STATE
-10/24 - at Texas State
-11/7 - IDAHO
-11/12 - LOUISIANA
-11/21 - at Georgia State
-11/28 - at Gerogia Southern
-12/5 - APPALACHIAN STATE
Address: 1621 Virginia Street Mobile, AL 36604