TROPICANA FIELD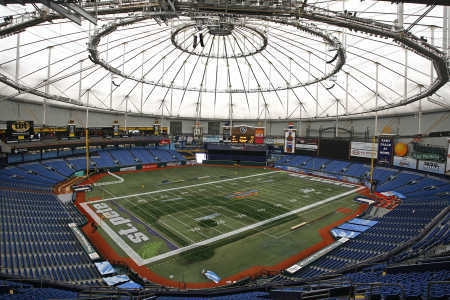 ST. PETERSBURG, FL
-Bowl Game:

St. Petersburg Bowl


-Sponsor: Bitcoin
-Capacity: 43,772
-Surface: Fieldturf
-Opened: March 3, 1990
-Host Since 2008
-Cost: $115 Million
-Seating Chart

Known as being the home to Major League Baseball's Tampa Bay Rays, Tropicana Field is home to the annual St. Petersburg Bowl. The concept of a dome stadium in the Tampa Bay-St. Petersburg dates back to the 1980s as the city was looking to attract MLB team. A dome stadium was chosen because of the rain that the area receives throughout the year. Originally named the Florida Suncoast Dome, the stadium opened on March 3, 1990. Once the stadium opened officials began trying to lure several teams (San Francisco, Chicago, and Seattle) to the area. However this was unsuccessful. Although the stadium did not have a baseball team it was used for basketball, hockey and many other events. Finally in 1995 Major League Baseball awarded the area a franchise. The team called the Tampa Bay Rays would begin playing at the dome in 1998. Although the stadium had originally been built for baseball, the organization decided to renovate the stadium to make it more like a ballpark. It was the last stadium built with a dome and looks similar to a cookie cutter stadium. The stadium was closed for 17 months while it was renovated. In 1996 the stadium was renamed Tropicana Field after Tropicana Juice purchased the naming rights. Part of the $85 million renovations included wider concourses, installation of Astroturf, clubhouses, dugouts, additional luxury suites, restrooms, elevators, escalators and administrative offices. The seating capacity was reduced from 48,000 to 45,000.

The Tampa Bay Rays played their first game on March 31, 1998 when fans filled Tropicana Field to see professional baseball for the first time. Fans enter the main entrance of Tropicana Field through a giant rotunda reminiscent of Brooklyn's Ebbets Field. Once inside the stadium, visitors find themselves in a place called Centerfield Street. Here are a microbrewery, a cigar bar, a wine cellar and various entertainment venues. Once fans enter the field area, they view a sea of blue seats. The lower level of seats extend from right center field to homeplate and around to left center field. The upper level of seats extend down the base lines. An area of seats above the lower level in left field is a place called the Beach. This is a section with beach decor and tropical foliage. Tropicana Field's outfield wall has many nooks and crannies that provides interesting plays off the wall. Beyond the centerfield wall is the Batter's Eye Restaurant. The main scoreboard is located beyond the right centerfield seats. After the 1999 season, the Astroturf was removed and replaced by Field Turf, a plastic grass. Starting in 2008, Tropicana Field began hosting college football, the annual St. Petersburg Bowl, that matches the American Athletic Conference against the ACC.
MAP & DIRECTIONS TO TROPICANA FIELD
Address: 1 Stadium Drive, St. Petersburg, Florida 33705
HOTELS NEAR TROPICANA FIELD