UNIVERSITY STADIUM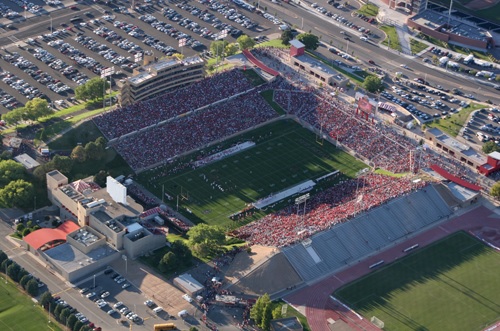 ALBUQUERQUE, NM
-Bowl Game:

New Mexico Bowl


-Sponsor: Gildan
-Capacity: 40,000
-Surface: Grass
-Opened: September 17, 1960
-Host Since 2006
-Cost: $4 million
-Seating Chart
-New Mexico Bowl Website

University Stadium is the home to the New Mexico Lobos and the annual New Mexico Bowl. Prior to moving into University Stadium, the Lobos played at Zimmerman Field. This stadium was beginning to show its age and the football team needed a new stadium to play at. Furthermore, winning seasons in the late 1950s and increased attendance led to construction of the stadium. Built at a cost of $4 million, University Stadium was completed by the 1960 football season.

The Lobos played the first game at the facility against National University of Mexico on September 17, 1960. The first of three additions at University Stadium came before the 1976 season when a new press box and luxury suites were added at a cost of $1.8 million. The next addition came before the 2001 season when the stands on the north side were expanded to increasing the seating capacity to just over 37,000. A new scoreboard was also added. The latest addition came before the 2004 season when bleachers were added on the south side of the stadium boosting the capacity to 40,000. Additional expansions are planned for the future as the Lobos hope to continue to build a winning football program. Since 2006, University Stadium has hosted the New Mexico Bowl that matches a team from the Sun Belt Conference and Conference USA.
MAP & DIRECTIONS TO UNIVERSITY STADIUM
Address: 1111 University Blvd., Albuquerque, NM 87131