Voted yearly as one of the most scenic stadiums in college football, Husky Stadium is the home of the University of Washington football program. Husky Stadium was constructed in 1920 and opened on November 27, 1920 with a capacity of 30,000. Over the past 90 years, Husky Stadium has undergone many renovations and expansions. Between 1936 and 1950, 25,000 seats were added to Husky Stadium at a cost of over $1.7 million that also included a two story press box and roof covering part of the stands. In 1968, an additional 3,000 seats were added. Also, the grass playing field was removed and replaced by Astroturf leading to the Huskies becoming the first collegiate team to ever have an Astroturf field. In 1987 $13 million renovation project was completed at Husky Stadium including increasing the seating capacity to 72,500. In 1990, a new eight-lane synthetic surface track was installed and prior to the start of the 2000 season, the Astroturf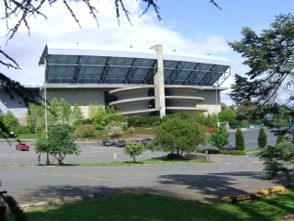 was replaced by FieldTurf.

In December 2006, the University of Washington unveiled plans for a major renovation project at Husky Stadium. The $280 million project began after the 2011 season and included the demolition of the entire stadium except for the upper deck on the north side. A new lower deck was constructed in a horseshoe shape around the gridiron with a new upper deck built on the south side of the stadium. New bleachers were constructed on the east side of Husky Stadium. Also included in this project was a new pressbox, the addition of luxury suites, removing the track and lowering the field four feet, and a new 31.2' high x 108' wide HD video/scoreboard. The stadium was closed throughout the 2012 season as the Huskies played at CenturyLink Field (home of the Seattle Seahawks) and returned to Husky Stadium in August 2013. The seating capacity of the stadium decreased slightly to 71,900. Fans attending football games at Husky Stadium receive excellent views of downtown Seattle, Mt. Rainier, the Olympic Mountain Range and Union Bay at Lake Washington.