VAUGHT-HEMINGWAY STADIUM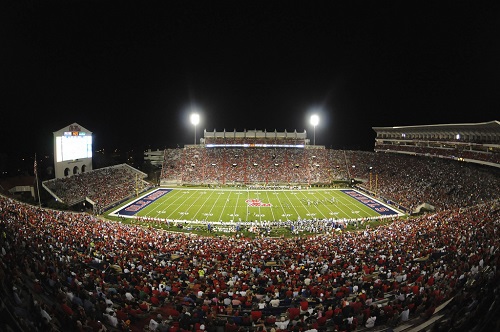 OXFORD, MS
Built for the Ole Miss Rebels, Vaught Hemingway Stadium is the largest stadium in Mississippi and one of the oldest stadiums in college football. In 1915 a 24,000 seat stadium was build a part of a federally sponsored project at the University of Mississippi. It was originally known as Hemingway Stadium after Judge William Hemingway, chairman of the University's Committee on Athletes.

Over three decades passed before any substantial expansion projects were completed at the stadium. One of the largest pressbox's was constructed before the 1950 season. Like many other teams during the early 1970s, the grass field was removed and replaced with Astroturf. The first major expansion of the stadium occurred during this time. Before the 1971 and 1973 seasons, seating was added at both the east and west sides of the stadium. Seating was added in both endzones prior to the 1980 season, increasing the capacity of Vaught Hemingway Stadium to 41,000. The facility recieved its current name, Vaught-Hemingway Stadium in 1982 as the stadium was named in honor of legendary coach John Howard Vaught.

The original pressbox was removed and a new one was built along with a club level in 1988. Two years later, lights were added to the stadium and seven years later a new video/scoreboard was installed. Before the 1998 season, construction was completed on the upper deck on the east side of the stadium boosting the capacity to 50,000. Prior to the 2002 season, the south endzone was enclosed, giving the stadium its current capacity of 60,850. The most recent change at Vaught Hemingway Stadium occurred before the 2008 season when a new $6 million, 48 ft. by 84 ft. HD video/scoreboard was installed replacing the existing Jumbotron. In July 2011 the university announced plans to raise $150 million dollars in order to build a new basketball arena and upgrade Vaught Hemingway Stadium. This project would include renovating the concourses and add seating in the north side of the stadium, increasing the seating capacity to 70,000. A timetable for this project has not been set.
2014 REBELS SCHEDULE
-8/28 - BOISE STATE (Georgia Dome)
-9/6 - at Vanderbilt
-9/13 - LOUISIANA
-9/27 - MEMPHIS
-10/4 - ALABAMA
-10/11 - at Texas A&M
-10/18 - TENNESSEE
-10/25 - at LSU
-11/1 - AUBURN
-11/8 - PRESBYTERIAN
-11/22 - at Arkansas
-11/29 - MISSISSIPPI STATE
MAP & DIRECTIONS TO THE STADIUM
Address: Hill Drive, University, MS 38677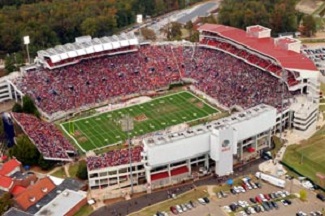 Aerial of Vaught Hemingway Stadium