Wallace Wade Stadium home of the Duke Blue Devils is one of the smallest stadiums in Division 1-A football. In the mid 1920s Duke University decided to construct a new stadium for its football team. Construction began in the late 1920s and was completed in 1929. Originally known as Duke Stadium, the Blue Devils played their inaugural game on October 5, 1929 against Pittsburgh.
In July 1967, the stadium was renamed Wallace Wade Stadium after legendary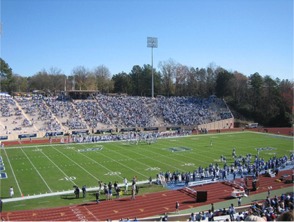 football coach Wallace Wade. Night football at Duke came in 1984 when lights were installed. Today, Wallace Wade Stadium is one of the smallest stadiums with a capacity of 33,941. It has been the home to 18 conference championship teams and was the site of the Rose Bowl in 1942. The Blue Devils have not had successful football team in recent years and oftentimes the opposing team has more fans at Wallace Wade Stadium. Although Duke is known as a basketball school, hopefully one day fans will see a winning football program at the university.