Known for its successful basketball program, the Blue Devils football team has began to make strides as a winning program in the ACC over the past several years. Wallace Wade Stadium has been the home of the program for over eight decades.

Originally known as Duke Stadium, the Blue Devils played their inaugural game on October 5, 1929 against Pittsburgh.

In July 1967, the stadium was renamed Wallace Wade Stadium after legendary football coach Wallace Wade. Night football at Duke came in 1984 when lights were installed. Today, Wallace Wade Stadium is one of the smallest stadiums with a capacity of 33,941.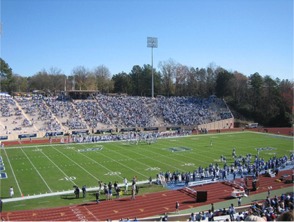 It has been the home to 18 conference championship teams and was the site of the Rose Bowl in 1942.
In September 2014 Duke University announced plans that will transform Wallace Wade Stadium. This $85 million project, set to start after the 2014 season, will add 10,000 seats to the stadium. The track surrounding the field will be removed allowing the field to be lowered and the addition of new field level seats. A new five story tower that will house the press box, luxury suites and club suites will replace the existing tower. In addition a new HD video/scoreboard will be added and the concourses will be expanded to included additional restrooms and concessions. This project is expected to be completed by the 2016 season.