Throughout college football there are many large video/scoreboards. At the Red Raiders home, you'll find one of the most iconic scoreboards in football, the Double T scoreboard. In the shape of the Texas Tech logo, it has been part of Jones A&T Stadium since 1978. The stadium has been the home of the football program since 1947. Originally known as simply Jones Stadium, the Red Raiders played their first football game at the stadium as their last home game of the year on November 29 1947, against Hardin-Simmons University. The stadium was named after Clifford and Audrey Jones, who donated $400,000 to construct the stadium.

Originally with a capacity of 18,000, the grandstand was situated in a semi oval. The first major renovation was before the 1960 season, when $2 million was spent adding 14,500 seats to the stadium. The field was lowered allowing more seats to be installed. Lights were also added at this time. Before the 1970 season, Astroturf replaced the grass field and two years later the stadium was expanded on the north side increasing the seating capacity to 48,000. In August 2000, AT&T Communications donated Texas Tech $20 million, allowing the university to expand and renovate the stadium. As part of the deal, the stadium was renamed Jones AT&T Stadium.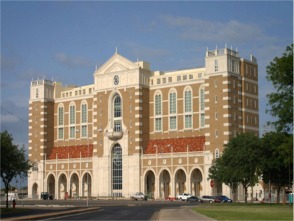 The expansions included a new three story press box with 21 luxury suites, increasing the capacity by 8,000 and modeling the façade after Spanish Renaissance Architecture to fit in with its surroundings. In December 2005, Texas Tech regents approved the construction of a parking garage and addition of 22 luxury suites on the east side of the stadium. In March 2007, Texas Tech presented a plan that would add 30,000 seats over the next 20 years to Jones AT&T Stadium. The first $25 million phase was approved in August 2008 and added a Spanish Renaissance facade to the east side of the stadium. It also included an addition of 1,000 seats, 550 club seats and 26 luxury suites. A $6 million expansion was approved in May 2009 adding 6,000 seats to the east side of the stadium. This expansion pushed the seating capacity to over 61,000. Before the start of the 2013 season, a 38' tall by 100' wide HD video/scoreboard was added in the north endzone. Texas Tech unveiled plans for a $185 million upgrade to all athletic facilities in 2014. Changes to Jones AT&T Stadium includes the renovation of the south endzone with the addition of club level suites.