Saturdays in the Fall, visiting teams step onto the field of a stadium known as a "Sea of Red" as 92,000 fans from across Nebraska fill Memorial Stadium to cheer on the Cornhuskers leading to to being known as one of the most intimidating stadiums in college football. The history of the stadium dates back to the early 1920s when support merged for the construction of a new football stadium. Construction began in early 1923 and was completed several months later when the Cornhuskers played their first game at Memorial Stadium on October 20, 1923 against Kansas. Memorial Stadium was named in honor of the citizens of Nebraska who fought in the Civil War, Spanish-American War and World Wars I & II. Originally, Memorial Stadium consisted of stands on both the east and west sides of the gridiron.

By 1946, the Schulte Field House was constructed on the north end of the stadium. The first main expansion of Memorial Stadium was prior to the 1964 season, when stands were constructed in the south end zone giving the stadium its horseshoe configuration. Within the next two years, additional stands were built on the north side of Memorial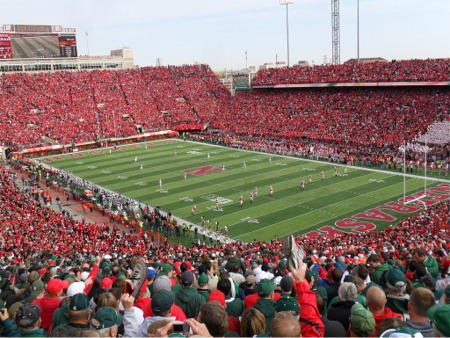 Stadium raising its capacity to 65,000 by 1966. A modern press box was built in 1967 and before the start of the 1970 season, the grass field was replaced by Astroturf. In 1972, the stands in the south end zone were expanded increasing the capacity by 9,000 to 73,650. In the 1990s, two new video/scoreboards, known as HuskerVision, were installed in the stadium. A $36 million renovation and expansion of Memorial Stadium was completed by the 1998 season. This included the construction of the Don Bryant pressbox, that includes 42 luxury suites and 1,500 club seats. Fieldturf replaced the Astroturf playing surface. Prior to the start of the 2006 season 6,500 seats were in the north endzone and the Osborne Athletic Complex was constructed. The latest addition to the stadium was completed before the start of the 2013 season as 6,000 seats and 38 luxury suites were added to the east side of Memorial Stadium. This increased the seating capacity to 92,000. The capacity has since shrunk as the bleachers in the upper deck were replaced, decreasing the seating capacity to around 90,000. Memorial Stadium has sold out for every Cornhuskers game since November, 1962.